WalkwithGod.com » Book Reviews, Featured » Shattered: A Book with a Purpose
When I started a mentoring program for my son in 2010, I knew it would be a challenge to find a mentor every week for a year. I also had an inkling that I was also signing up for a bigger task in that his siblings would expect the same thing. What I didn't realize at the time is that this initial journey would result in a fourteen year old girl writing a full-length novel.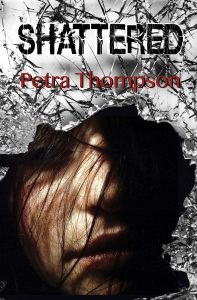 When David went through 52 Godly Men, he wrote a basic blog (52godlymen.com). My first daughter Anna created short videos which detailed the lessons she learned from the women she met (52godlywomen.com). When it came time for Petra to start the program in 2017, my wife and I weren't sure what she should do. Photography? Another blog? Petra solved that question by announcing that she was going to write a novel.
Through the year of her mentoring experience, Petra met with the women, made copious notes and began to form the outline of a plot and lead character which would become the heart of her story. Now, less than two years after she began the process, she has a novel which is both complete and compelling.
I realize some people are skeptical of the literary value of anything written by a teenager. Because I'm a father who wants to find good books for his children to read, I've read many, many books for children and youth. When I began working my way through Petra's book, I realized that she had created a character which is funny, conflicted, likeable and, most of all, believable. Then there are the plot twists. I can usually see events coming, but she caught me off guard more than once.
I won't spoil the book by giving out details. It's available via Ingram Book Distributors (your local bookstore can order a copy) and will be on Amazon and other places soon. What I would like to do is point out the value of this book for parents, teachers and young people. There are numerous writers of young adult fiction. Most of it is junk. I don't let my children read vampire romance novels. They don't get to read dystopian literature which will leave them depressed and susceptible to suicidal thoughts. C. S. Lewis once noted that, "The world does not need more Christian literature. What it needs is more Christians writing good literature."
In Petra's book, the protagonist meets with women of character as part of her journey. What people in this area will find interesting is that these are the women you worship with, the women who teach your children, the women who invest their lives into this community. Denise Jones, a teacher at Black Fox Elementary is in the book. Ginger Robinson and Jenn Taylor, who have impacted lives at Tennessee Christian Preparatory School are in it. Other women included in the book are Tracie Shellhouse with New Hope CPC, Cathy Payne with COGOP World Missions, Anita Hughes, Laura Allen, Dot Qualls, Alexis Burleson of Unity Dance Troupe and many, many more.
What this means is that as you read this book to your family, you get to experience some of the impact of hearing the insights, testimonies and wisdom from these women. What Petra has done is monumental. She has recorded a plethora of life changing stories which are true and has woven them into a narrative which shows how these women have triumphed over some of the toughest circumstances life has brought them, yet they still impact the world around them for good. Shattered will both entertain and amaze you.
Shattered: Petra Thompson
Thompson Publishers (c) 2019
ISBN: 978-1-64407-006-2 (print)
ISBN: 978-1-64407-007-9 (ebook)
Filed under: Book Reviews, Featured · Tags: christian book, petra thompson, shattered